---
Ever wonder where stuff went from the movie? Well these are all based on what I have heard over the years. Some of them my be untrue. Got something that should be on this list? Want something removed? Email me. In the case of the anonymous individuals, I know who they are but they asked to be left off or I left them off for another reason.

From The Rocky Horror Picture Show: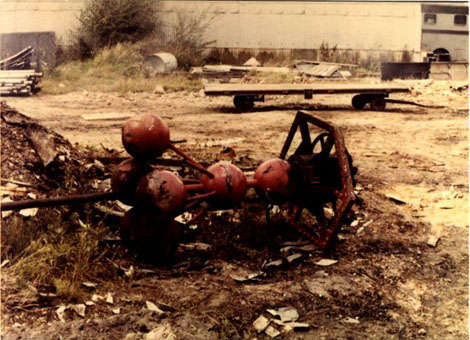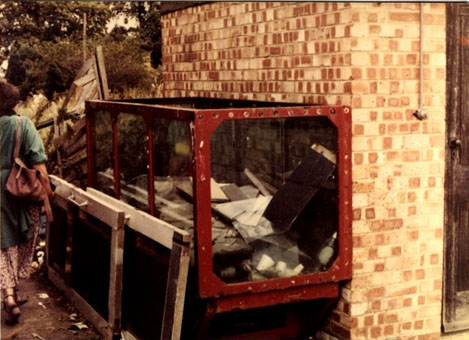 This what became of the tanks. This was found in a storage lot behind a movie studio from what I was told.

| | |
| --- | --- |
| Wedding Coat & Tux (His own) | Stephen Calcutt |
| The Criminologists Coat | Sal Piro |
| The Criminologists Book | Sal Piro |
| Sadie's Costume | Scott Michaels |
| Frank's Dinner Corset | Ruth Fink-Winter |
| Rocky's Trunks | Atlanta Hard Rock |
| Transylvanians Ring | Larry Viezel |
| Magenta's Boots | Sue Blane |
| Floorshow Boa | Larry Viezel |
| The Monitor in the Lab | Richard O'Brien |
| The space gun | Richard O'Brien |
| Tombstones | Anonymous1 |
| Urns from the Church Scene | Anonymous2 |
| Fake Brad Coat | Vegas Hard Rock Cafe |
From Shock Treatment:
| | |
| --- | --- |
| Shock Treatment Hat | Adam Clarke |
| Shock Treatment Towel | Unknown |
From The Roxy Cast:
| | |
| --- | --- |
| Riff Vest | Rick Sloan |
| Frank Lab Coat | Rick Sloan |
| Purple Janet Dress | Rick Sloan |
From The Bellasco:
| | |
| --- | --- |
| One of Franks Shoes | Sold in Vegas 2000 |
From The London Upstairs Theatre:
| | |
| --- | --- |
| Columbia Top Hat | Martin Fitzgibbon |
| The original miniture sets built by Brian Thompson | Kimi Wong |
Rare Merchandise:
| | |
| --- | --- |
| Cake Poster Dolls (except Magenta) | Brady Ferguson |
| Magenta Cake Poster Doll | Ruth Fink-Winter |
| Headliner Dolls Prototypes | Nathan Summers / Rocky Radio |
| Urn of a Rufus Collins | The Rocky Horror Preservation Foundation |
| Shock Treatment Cassette of demo | Donny O'Brian |
Heartland America Movies and Company:
Movies Set in the Heartland of America
Deals at Heartland America Shop Online
Inspiration From Heartland America Pinterest