Awards:
---
October, 2000 Cosmo won the "Presidents Award" at the 25th Anniversary of Rocky Horror in Las Vegas. The award was presented by Fan Club President Sal Piro.

---
April, 1999 Cosmo won the "Boss Award" at the Denver Rocky Horror Convention.


---
7-17-00 We won an award from Celebsites.com

---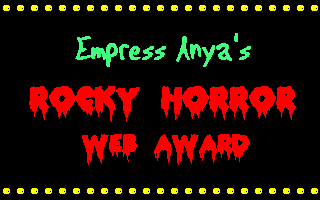 Empress Entya This is Her Web Page

---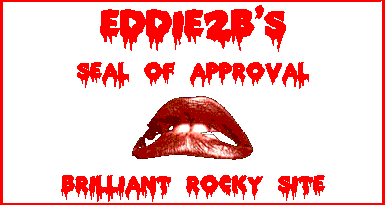 Cosmo's Factory has the Eddie2b Rocky Horror Award
Sept-06-1998

---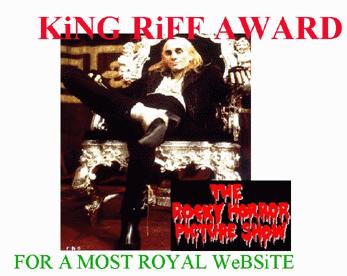 Cosmo's Factory has won Riff's Most Royal Web Page Rocky Horror Award
AUG-05-1998

---
Cosmo's Factory has won Empress 567's Really Groovy Rocky Horror Award
AUG-03-1998

---
Cosmo's Factory has won Riff's Awsome RHPS Site Award
MAY-26-1998

---
Cosmo's Factory has won Layla`s Pretty Groovy RHPS Page Award
MAR-09-1998

---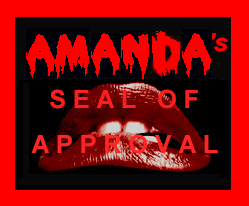 Cosmo's Factory has won TCurryGirl's Seal Of Approval for one kick ass Rocky/Shock page!!
MAR-02-1998


---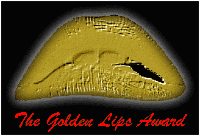 I won the Rocky Horror Web Site of the Month 6/97
---

Cosmo's Factory Chances are good that if you're on-line, you've heard of Cosmo's. It
claims to be "the Internet's largest Rocky Horror related site" and it
probably is. By the time you read this, it will have had more than
100,000 hits. This is one of the most-frequently updated Rocky Horror
sites out there; Cosmo usually adds new stuff every couple of weeks.

The variety of stuff available on this site is staggering. It includes
personal info, a filmography, trivia, and pictures of the actors and
crew of both Rocky Horror and Shock Treatment. While there are many
pictures from both Rocky Horror and Shock Treatment, there are also
out-takes and other TV and film appearances, ranging from Barry Bostwick
reading from George Washington's letters on C-SPAN and Susan at the
Oscars to pictures from Tim's music videos and Little Nell topless in
"Jubilee." The site also includes song lyrics, guitar chords for Shock
Treatment, a Fan Database which you can join, trivia quizzes,
classifieds, a "question of the month" that visitors vote on, a list of
cast web pages, and even its own search engine.
In addition to its terrific content the site boasts high interactivity
for fans: anyone can input a profile on the "Fan Database," post to
"Columbia's Bitch Board," or post a classified ad. Most of the
classifieds are people looking for penpals or cast members, though
people selling or trading the occasional goodie can be unearthed
there, too. The "Question of the Month" frequently involves rare
images of RHPS/ST actors, and also directly involves fans. The cast
websites list is not the most complete on the Internet, but it's got a
great gimmick: not only will Cosmo list your cast's webpage if asked, he'll
create one for you on the site if you don't have one!

There are a few minuses to the site. It lacks the "glitz" that newer
browsers afford the web designer. Obviously the concept is that
Cosmo would like the site to be available to users of all browsers. The
biggest upside of this site is the content, but it can be a bit
overwhelming. You'll have to come back several times to take it all in.
The pictures are at times a bit grainy and not always suitable for
printing. This is not the fault of the designer, but the constraints
of current VidCap technology and his source material (there ARE no clean
copies of Tim Curry's music videos).

Content: 10. This site has so much on it that it is rare to find a
Rocky Horror page on the internet that did not "borrow" one of his screen
grabs from the movie.

Organization/Ease of Use: 9 The search engine is great; so are links from
"What's New" page. The cast list is alphabetized, but again because of the
sheer volume of information at this site can be difficult to get what you
want efficiently. We should all have such problems :-)

Layout: 8 looks nice, not too fancy. Might actually benefit from hot
buttons or (ugh) frames on main page just because there's so much stuff.
Also some of the newer browser features would be nice.

---
The Time Warped Tymes #3
- clip - March 21, 1997
Web Site of the Month-
As I surf the net a lot I see some things that are pretty cool. Some of
those things happen to pertain to Rocky Horror. Go Figure. I want to
somehow thank the people who put so much time and effort and who open
themselves up to everyone who goes to their site. I think the best way to do
that is to start a cheeky article to tell them how cool they are. The first
web site of the month is Cosmo's Factory. Cosmo's real name is Jim Hetzer
but almost all his friends call him Cosmo. He got his name a couple of
halloweens ago when he came to a costume party dressed up as Cosmo McKinley
from Shock Treatment. His web page is the largest RHPS and ST web site and
it boasts the most scripts and pictures that you can find on the Internet.
He is very proud of that. He attends Rocky in Cincinnati where he lives.
He is not a member of the cast there, but he is very happy with the way his
life is headed. Because of his endless contributions I feel that it is only
fair to award him with the first of many Cool Web Site Awards.


---
I received this award on January 21st, 1997. Thank you very much.

---

I was awarded this on 12/23/96. Thank you very much to all of my German Fans.

---

Pointless Award

---
Spiders Pick of the day
---

Voted Wicked Cool Page of the Week!

---
Cosmo's Factory was honored as a Wicked Cool Page of the Week for 7/27/96

---
ECW Pages that Rock and Pages That Suck!
Cosmo's Factory was honored as being one of ECW's Pages that Rock!

---
Hit the Beach!
Cosmo's Factory was honored as being the wave of the day for Feb. 21st 1996