Rocky Horror Guitar:
---




One great joy in my life is when my hobbies cross paths. I have many hobbies and interests and they are constantly changing as I grow as a person. But one that I've never been able to loose is learning the trade of being a luthier. For those who don't know a Luthier is not a term for a person of a specific religion or something like that. A Luthier is a person who builds musical instruments. Traditionally stringed instruments. I built my first guitar at age 15 out of the shelf in my closet with very crude tools from my fathers garage.

Now that I am an adult with a house and large woodshop of my own, I can again enjoy that passion that I had at 15 for building guitars. I don't build standard guitars. If I want a strat I'll go buy one. I build guitars that are different. I've built about a dozen guitars in the last few years. Most of them I have given away. Most recently I made two Lindsey Buckingham - Rick Turner copies that I gave to my two good friends Kevin J.B. from the Cleveland Rocky Horror Cast and Nathan Summers (of Rocky Radio)

Below are some photos of a guitar that I made and some of the text relating to it's creation. I've wanted to build it for some time. But just recently I got the inititive to do it.

- Cosmo





The Rocky Horror Guitar. All that's left to do it paint the letters on the neck.





The letters were printed on a laser printer, glued to a piece of Birch 1/4" Luan. Then each letter was rough cut on a bandsaw then a router table. Then the letters were hand shaped with files and a chisles.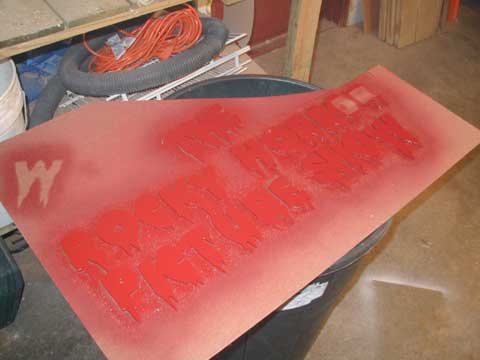 I did 9 coats of red paint before it was deep enought. Between most coats there was a light sanding.





After the letters were painted.





Sanding.. Sanding.. Sanding...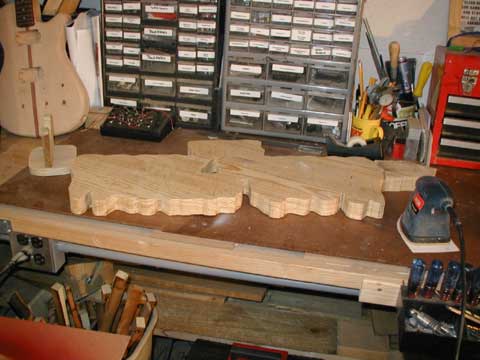 The body, in this case is made of high grade pine, mostly because of the weight.





The main body - first coat black - no finish





Before Hardware was painted

You may notice the guitar has no visible pickups. That is because I use a Midi Pickup on it GK-2a with a GR-30. So when I do play it I can get an alto sax sound. The bridge can also be fitted with a pickup.





Another nice shot of it. Don't let the pixilization full you. The color is very smooth.





The proud owner. That's me. Well kind of me.




SPECS:
Neck 21 Fret Fender Replacement Neck.

Tailpiece - standard Gibson Replacement Les Paul Tailpiece.

Bridge - Gibson ABR-1 Tune-a-matic Bridge
I chose actual Gibson parts because they have a mat finish which takes paint better.

Pickups - GK-2a (Not Show) removeable. Used with a GR-30 and Yamaha MU90-R.

Playable Length - 24 1/2"

Total Length - 52" +/-


NOTES:
It actually plays quite nice. You would think that because it is so long it must be hard to play. But it sits right where you would want it too.